Heavy Lift and Transportation
Kites is one of the top heavy lift companies in Saudi Arabia. We offer integrated technical solutions and world class service to all our clients' needs-heavy haulage, erection and heavy lift transportation.
We provide modernized equipment, qualified operators, licensed drivers, certified riggers and approved lifting accessories. We also provide rigging study, lifting plan with drawings, transporting plan with drawings, load charts, risk assessment plans and detailed accessories specifications.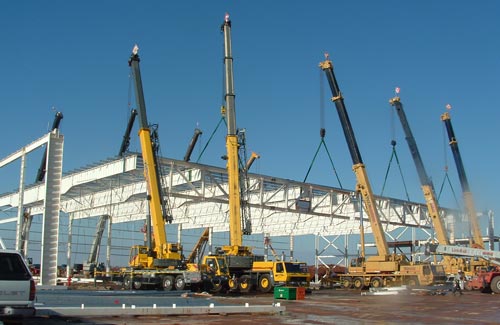 From the most simple transportation jobs to the heavy haulage, erection and installation of oversize, heavyweight industrial pieces, we offer safe, practical and cost-effective solutions to our clients, no matter how small or big the project may be.
We are specialist in customer-driven and tailor-made heavy lifting and transporting solutions at any onshore and offshore location. Our package    includes heavy equipments on rent, lifting equipments such as mobile and crawler cranes, complete lifting accessories and experienced crew. We also provide rigging study, lift plan, calculations and drawings. We are capable 24/7 on call services and we do have Saudi Aramco and Third party certified Operators and Riggers (Level I, II, III).
The factory as a foundation of service includes all necessary engineering, road and site surveys, logistics, crew and equipment scheduling, proper documentation and assembly operations.